Glad to have you back Topper followers,
Raise your hand if your bracket is somewhere in a landfill right now. Yeah, us too. But don't fret! We're going to catch you up on all the intramural action that's been taking place to take your mind of those Cinderella Stories.
Basketball
The #1 Seed from the Women's Bracket, WKU Soccer, laid your typical #1 versus #8 smack-down last night against the Dream Team by having a mercy rule by the 2-minute mark.
From the Fraternity Basketball Bracket, both FIJI Purple and and Farmhouse mercy ruled their opponents to advance to the quarterfinal part of the bracket.  Manny Serrano from team Farmhouse did his best Steve Nash impression, draining 7 3-pointers and scoring an overall 27 points in the win. Farmhouse and FIJI Purple will face off next Thursday; the winner is to face the winner of KA Magic/SAE Gold, potential rematches lurking from the regular season in the semifinals.
First Round of CoRec games took place Tuesday with 4 teams advancing into the quarterfinals: Ballstars, Constantly, WKU, and Hyperbeast. All teams will be in action next Tuesday. Bold prediction: Look for team WKU to dish out some revenge after a close loss to SAE/KD in the regular season. Our prediction is WKU over SAE/KD, 55-48.
Soccer
I must say, we're all pretty excited we've been able to play some soccer games this week. Our women's bracket is down to the Elite 8 as Chi Omega leads the field as the #1 seed. Chi-O will face ADPi in their quarterfinal match-up. But ADPi has a true scoring threat in Hannah Murphy, so Chi-O should be on upset alert come Monday!
For the men's bracket, a mix of well-rounded teams litter the playoff field as several teams try to fight their way through the first and second rounds of the bracket. Quarterfinal games will take place on Monday, narrowing down the field to our top 8 teams.
Wiffleball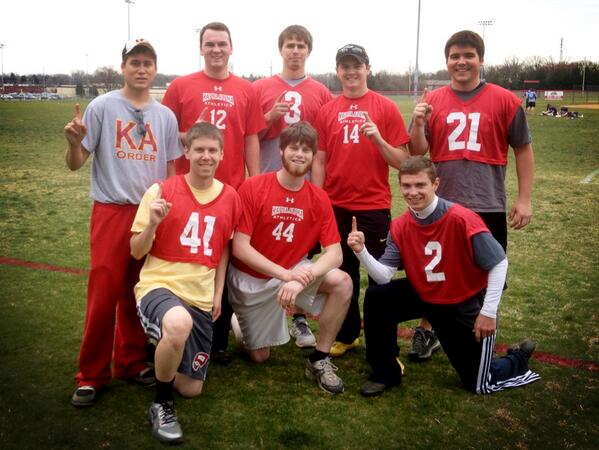 In our Wiffleball Tournament, the KA Bombers took home 1st place honors as they defeated FIJI Purple in the finals.
Upcoming Events
Be sure to let your teammates and friends know that Softball Season will start Wednesday April 3rd! Registration for the 5K Bunny Hop and 3-Point/2Ball contest are still open until Monday, be sure to sign up!
Finishing up the year we'll have our 4v4 Flag Football Tournament, registration opens Monday April 1st. Handball will also open for registration on April 1st as well. Finishing out the semester we will be hosting a Cornhole Tournament! Registration for Cornhole opens up April 8th. Here are the start/event dates for our remaining sports!
Softball – April 3rd
5K Bunny Hop – April 3rd (One Day Event)
3-Point/2Ball Contest – April 4th (One Day Event)
Handball – April 8th
Cornhole – April 20th (One Day Event)